The candidate who are seeking admission in BAMS Ayurvedic College IN North India/Rajasthan /MP/Haryana must fill the form available with the prospectus for BAMS course approved by CCIM, New Delhi & AYUSH, New Delhi, which is available in college office/can be availed by post submitting a D.D. in favor of SKS Ayurvedic College one of the Best Ayurvedic Colleges in Haryana
The duly filled application form should reach the college within 10 days of commencement of the results of the respective boards/states along with required enclosures. Candidate must submit the filled application form personally at SKS one of the top BAMS Ayurvedic Colleges in UP situated near by Delhi & surrounded by other states like M.P., Rajasthan & Haryana. Hence candidates looking for BAMS Ayurvedic College in Rajasthan or those who wish to pursue Ayurvedic Degree in Rajasthan can also fill their form for the course of BAMS.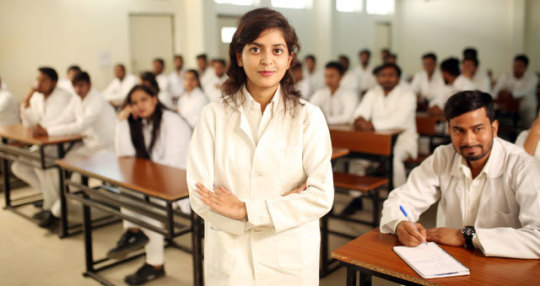 The entrance test for admission in BAMS Ayurvedic colleges in UP at SKS will be organized by the Association of Private Ayurveda, Unani and Homeopathic College of U.P. for the states like U.P., M.P., Rajasthan & Haryana. The test will be conducted by a neutral agency. Those who will achieve higher rank in merit list get selected in the courses/college of their choice. The candidates will get admit card and have to appear in the entrance test to be held on Specified date in centre at cities like, Aligarh, Noida, Lucknow, Ghazipur, Agra etc. which will be intimated to the candidate in the admit card. The entrance test will have multiple choice type questions as per the syllabus of U.P. CPMT. Result will be declared within 02 weeks of the date of examination and the merit list will be displayed in college office and selected candidate will receive letter regarding admission. The declaration of merit list counseling will be held where candidate can choose the course of their choice for BAMS in M.P., U.P., Haryana & Rajasthan. Hence interested candidates looking for BAMS Course in Delhi NCR can also get the chance to pursue their BAMS from SKS Ayurvedic Medical College & Hospital one of the top BAMS Ayurvedic Colleges in North India
Date of Counseling will be informed to all applicants, so that they have to appear in the counseling.
If a candidate does not appear in BAMS counseling he would not be entitled to admission and seat will be allotted to candidate who is next in the merit list.
We hope to have resolved all your queries regarding the admission procedure however if you still have any doubts or queries we welcome that warmly.