As per the exclusive ACS-Information, the number of active COVID-19 cases in Uttar Pradesh is 84,800, and 4,800 new cases recorded in the state in the past 24 Hours. State's daily COVID-19 cases continue to decline, which is good news but still many patients in the state are waiting for hospitalization due to a shortage of beds. Keeping in view the ongoing situation, SKS Medical College and Hospital has set up a COVID care center at their college premises in Mathura. This best COVID Hospital near Noida has 100 premium oxygen beds, all placed in ICU/ HDU. So, there's no more shortage of beds in the nearby region.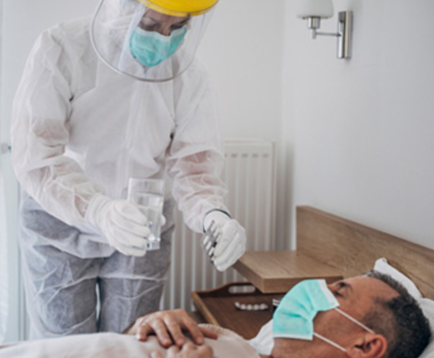 The fully air-conditioned COVID Care Facility is no more than a blessing for people in Mathura city and the nearby cities, where people were forced to move to travel for hours for medical care due to the shortage of ICU and ventilator beds. Since the college is facilitating services as the best COVID Hospital in Uttar Pradesh, COVID-19 patients who are in urgent need of medical care can get oxygen support immediately.
Facilities Offered By The Best COVID Hospital in Noida
Being one of the best COVID Hospital in Delhi NCR, SKS Ayurvedic College has highly qualified health care specialists including trained nurses, incentive care specialists, and M.D. Doctors to take utmost care of the COVID-19 patients. Look at the other facilities
100 premium beds with 24/7 available oxygen support
All beds are placed in ICU/HDU, no more shortage of COVID-19 medical care
BiPAP Facility available at no extra cost
Ventilator facility for emergency cases requiring hospitalization
8-tier meal for quick recovery of COVID-19 patients
Clean restroom meeting hygiene standards
If you wish to get more information about this best COVID Hospital near Noida facility, then contact us immediately at +91 9997-995-865 or +91 9997-995-868 for a free consultation. Share this post as much as possible to pass on the information about the COVID Hospital List in Noida.