SKS Ayurvedic College's COVID care facility is well-equipped with essential facilities to help patients recover fast. All these live-saving facilities and treatments are made available at a very minimal price of INR 6000 per day (T&C). It's the lowest in the state. Don't believe us? Check out the list of COVID-19 hospitals in Uttar Pradesh to compare the prices now.
The COVID hospital is very close to Noida and helped many patients to COVID-19 treatments and facilities on time. It's the prime reason why our COVID care facility is famous as the best COVID hospital near Noida. Have a look at the facilities offered at the center.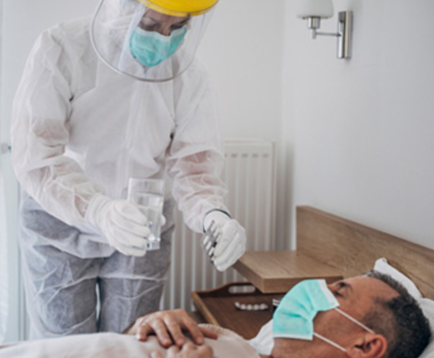 It's a setup of 100 premium COVID-19 beds supported with essential medical supplies
All beds can be easily installed at ICU/HDU depending on the requirement
24/7 available ventilator facility handled by a skilled team of intensive care specialist
BiPAP Facility at no extra cost for patients with mild respiratory problems
8-tier meal setup for COVID patients to give them a healthy and nutritious meal
A well clean, sanitized, and hygienically safe restroom and bath facility
Highly qualified, experienced, and trained team of M.D Doctors and nurses for 24/7 to monitor patients
Best COVID Hospital in Ghaziabad Also Offers Following Optional Facilities –
Proven Ayurvedic Therapies:  
SKS Ayurvedic Medical College and Hospital also provide Ayurvedic therapies to help COVID-19 patients boost their immunity levels for a fast recovery.
Advanced Physiotherapy Treatments:
In many cases, it's observed that physiotherapy treatments are helpful for patients with mild respiratory concerns.  
For further information about the availability of COVID-19 beds availability, optional facilities, and a list of the COVID-19 hospitals in Uttar Pradesh, get in touch with us immediately. Our COVID Helpline Number is active 24 hours to answer your queries in no time.
Call at +91 9997-995-865 or +91 9997-995-868 for free consultations now.